If glancing into your sewing room/area makes you cringe and shut the door (or wish you had a door to shut!), don't despair! There are some small organization changes you can make to have a big impact on your space and how you feel working in it.
If we're being honest, we've all been there (maybe earlier today!) Feeling like the chaos of your sewing space is overwhelming can stop even the most dedicated quilter from creating. Like many other problems, working on small steps can lead to big accomplishments! Rather than wondering how you can ever get the entire space under control, think about breaking the organization into small steps.
1. Organize your thread.
We all have thread, probably more than we need and most likely some that we should part with. Old or inferior quality thread can have a negative affect on your quilts. Consider setting aside colors you don't like for jobs where the thread won't be seen, like hand basting English Paper Piecing pieces. I keep the majority of my thread on a hanging thread rack, but keeping it in a flat tote or even in a drawer, organized by color works well also.
2. Organize your bobbins.
Now, you could do that as the same time that you work on your thread, but we're trying to keep the tasks small, right? Find something to keep all your empty bobbins together like a cup, jar or basket. Next, go through and empty ones that are almost empty so that they are ready to roll on your next project. Keep matching thread and bobbins together with bobbin pins or clips, or keep all your bobbins together, which ever works for you. There are several products available including bobbin nests and boxes designed especially for this use.
3. Organize your notions.
Yes, this can be a bigger task, so you may need to break it down further. Sorting out pins, seam rippers, scissors, marking tools and more will go a long way towards making your space feel neat and tidy. Now might be a good time to treat yourself to a new pincushion (or 2) using the GO! Pincushion (55209) To keep your tools standing at attention and ready to go to work, think about grabbing a few mugs or glasses. For something specifically designed for the task, consider a Stash 'n Store. Some pegboard or a rod with hooks can help corral rulers and scissors, too.
4. Organize your books, magazines and patterns.
This task is especially great for January because it can help inspire your projects for the new year! Do you have shelf (or shelves) devoted to your quilting books? Maybe it's time to go through your quilt magazines, pulling out the patterns that still speak to you for future use. Store these, along with loose patterns in plastic sleeves that fit in binders. This can go a long way to opening up some prime sewing real estate!
5. Take a die inventory.
Having a good inventory of the dies that you own is a great first step in organizing your dies. Did you know that AccuQuilt offers a free app to help you keep track of your products? Items ordered from AccuQuilt.com when you are logged into your account will automatically be added now, but you can also add anything that you have bought from your local retailers or received as gifts. With inventory taken, you're ready to start organizing those dies! The added bonus is having that inventory on your phone means it's there with you every time you visit the quilt store, right?
The app is available on Apple App Store or Google Play Store.
6. Sort fusible and stabilizer.
Keeping these items neat and organized will mean that you are ready for an applique or embroidery project at the drop of a hat. Find something fun to hold rolled up tubes of these useful items. You may want to designate a container for smaller scraps as well, maybe including fabric that are already fused and ready to roll.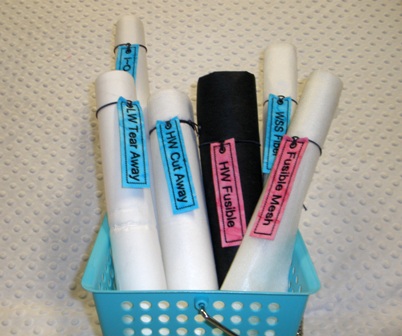 7. Give your sewing table a good cleaning.
Face it, we've been disinfecting things for months now, let's not forget this vital space! Take everything off and wipe it down. As you put things back, it's easy to sort and put things away into their proper space.
Featured Project: GO! Nesting Cubes Pattern (PQ11828)
8. Gather your scraps.
How do you organize your fabric scraps when you are cutting and sewing your projects? If your space is covered with little piles of scraps waiting to be sorted, think about getting them all together in just one container, like a large glass cookie jar, basket or tote. Make yourself a promise that you will "deal" with them later, once the container is full. After all, we're taking small steps right now.

Take a deep breath, you really can make a big difference in your space with some small, easy to finish tasks. We hope you'll share pictures of your accomplishments!